There are five student dormitories - one for international students and scholars with capacity of 160 persons and four others for local students with capacity of 1200 persons. Students from different countries spend their joyful and challenging years of their student's life with their common goal of studying there. It is a safe place to live and rooms are furnished. Student affairs and complaints are resolved by a dormitory manager.

International students contact the Student and Alumni Affairs office and the Registrar Office in advance to arrange a room at the dormitory. As the dormitory for international students has limited number of rooms, earlier booking is advised. The dormitory is guaranteed for government funded students and incoming exchange students. The dormitory is guaranteed for government funded students and inbound exchange students. There are five student dormitories - one for international students and scholars with capacity of 160 persons and four others for local students with capacity of 1200 persons. It is a safe place to live and rooms are well equipped with bed, tables, desks, internet access. Dormitory manager supports a variety of orientation and counseling services.
| Number of people | Monthly fee |
| --- | --- |
| 1 person | 310.000 MNT |
| 2 person | 155.000 MNT |
| 3 person | 105.000MNT |
| Guest | 30.000MNT |
Room condition
---
two rooms in one block
shared bathroom (between 2 rooms
painted floor without carpet
Room facilities
---
bed
chair
desk
wardrobe
bed set
shared fridge between two rooms
Common facilities
---
shared kitchen
shower
laundry

Established in 1942, the library owns a collection of over 380,000 publication works and a wide range of electronic database. The library provides an access to international online database. The university has one main and three branch libraries. In addition, it holds about 1000 CDs, 24 electronic books, 5200 master's theses, as well as an e-reading room, which has an access to 16 international online databases. One-stop services linked to the library information are also available to the users.

Reading rooms devoted to Natural Science, Humanities and Social Science, as well as Newspaper Reading Rooms, are furnished for group study space where students feel convenient during their study, research work and other extra-curricular development.

The hall for research and foreign books consists of rooms for group work and reading rooms for faculty members. This hall is open to graduate students, faculty members and the staff of the NUM.

On the first floor of the library building, you will find a bookstore, a university archive, a reading room for newspapers, a NUM museum, a NUM brand shop and a coffee shop. There are also some modern lecture halls -and workshop rooms and modern laboratories, all furnished with innovative equipment. Teachers, staff and students of NUM access the library or register for electronic books with their ID card.
International Student Office
The International Student Office is a student-centered office that supports academic and social activities at the NUM and maintaining integrity of academic policies and guidelines. It is the focal point of all international students which provides service related to support student's life during their studies such as assist students with dormitories, organize orientation for new students, organize various academic, cultural, entertainment events oriented at international students. 
International Student Office provides following services and counselling:
Assist international students with Mongolian legislation, University rules

Provide international students with information, rules regarding Mongolian immigration Agency including: registration, alien certificate, entry/exit visa etc.

To be in charge of problems regarding application for visa, registration, alien certificate, entry/exit visa

Organize cultural, social and academic programs jointly with schools, departments

Greet international students and provide accommodation

Organize orientation day for new international students, provide with handbooks, pamphlets about university's activities and offices.

Organize various cultural events to introduce international students to Mongolian culture, history

Organize travel and sightseeing programs for international students

International student activities

The NUM organizes various events and activities to bring together international and Mongolian students and to assist international students to adjust to university life and to experience nomadic lifestyle, culture, history, Mongolian cuisine and nature.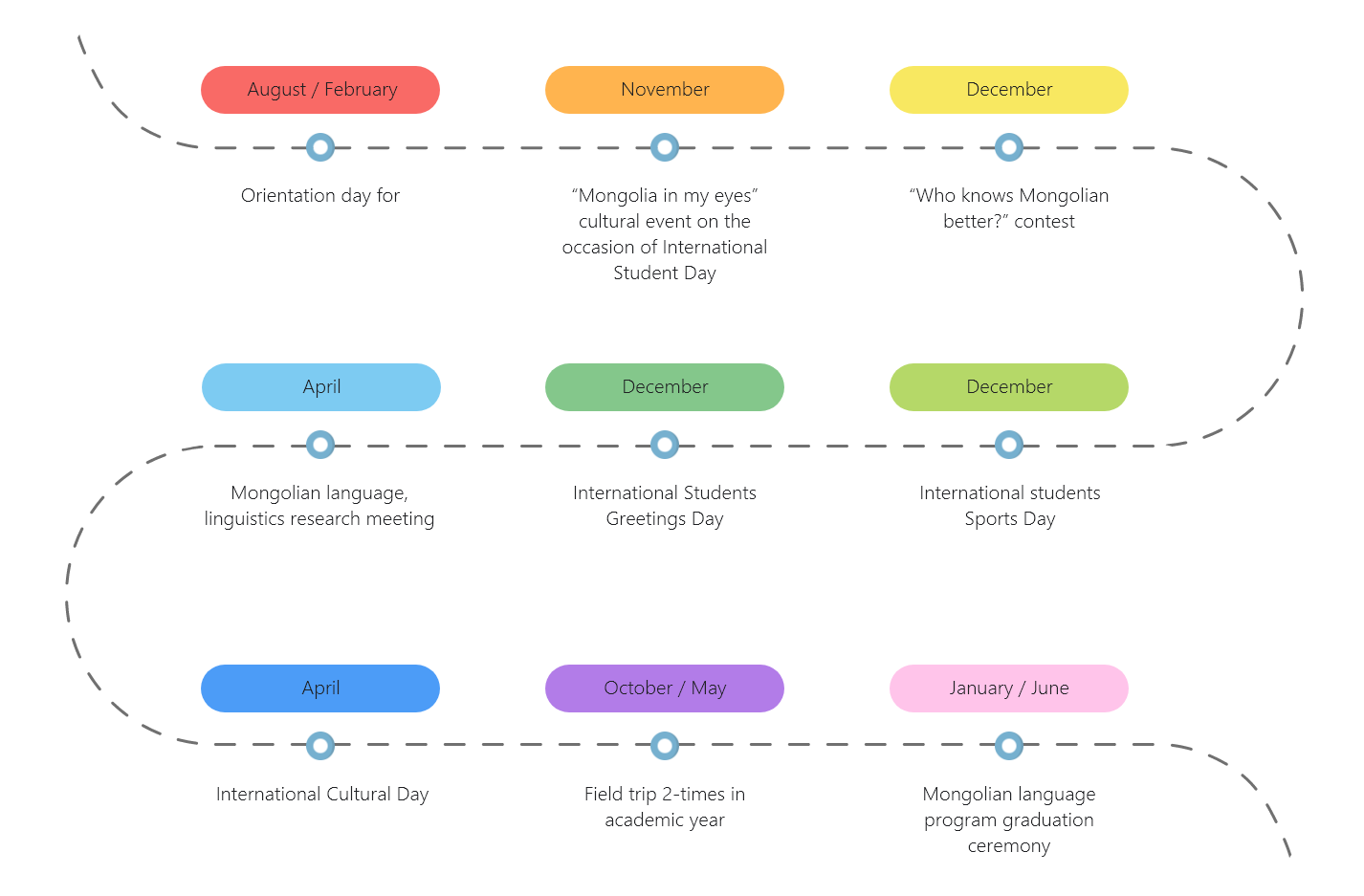 Mentor students

A mentor student is a platform which matches international students and local students for a buddy program. After matching them, international students can benefit from a personalized welcome through a privileged contact with their mentor, and receive quality support for administrative procedures, personalized visits of the city, and places of study/work. In general, international students can receive a help when needed. Mentor students' objectives are to improve the integration of students conducting their academic exchange abroad, internationalize the campus and local student life, help with interactions, help open mindsets, increase mutual understanding to strengthen partnerships, welcome international students (universities and associations) and allow them to develop long-lasting relationships among students.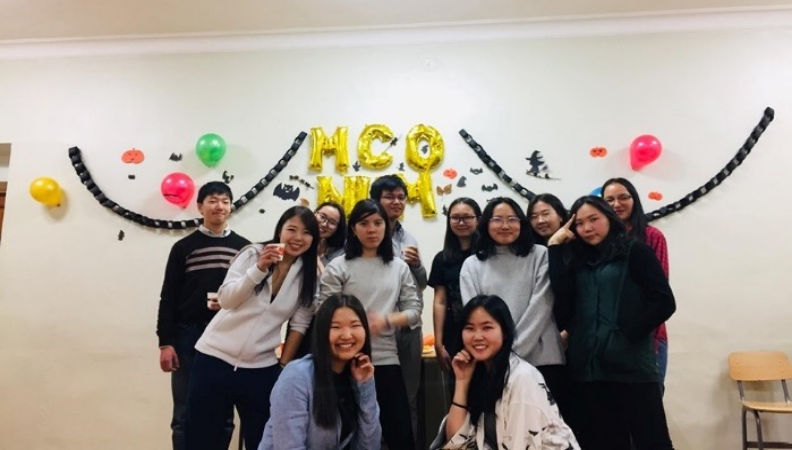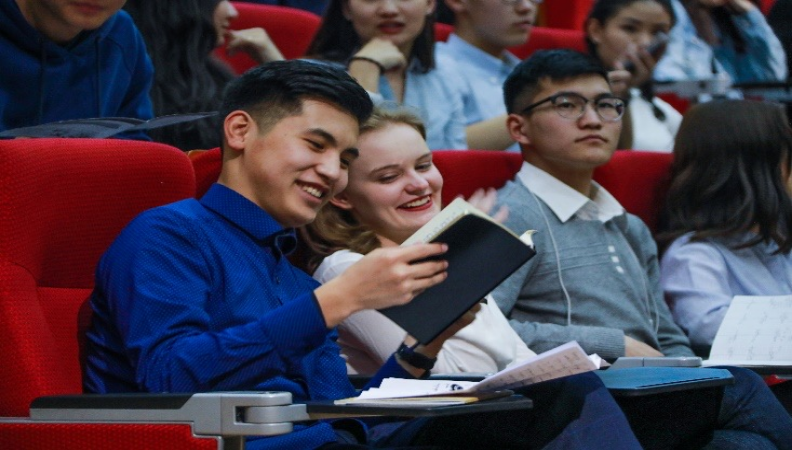 Airport
pick up
As a part of the service, the Office of Student and Alumni can arrange pick up from Chinggis Khaan International Airport and place you to student dormitory. This service is free of charge to new enrolled students and must be booked in advance of your date of arrival. 
Money and
banking
It is recommended to open a bank account shortly after arrival in order to be able to receive the grant/scholarship they are entitled to. To open a bank account, you will need your passport and residential address in Ulaanbaatar.
ATM
Mongolian bank cards and international VISA and MASTER cards can be used in the ATM machines cross out located around the town. Credit and debit cards are accepted at main banks, large hotels and most shopping centers and restaurants.
Transportation and
buses
The best thing about Ulaanbaatar is easy to travel on public transport. Busses, city trains and taxis usually run scheduled time regularly. The tariffs are affordable. The buses and light rail vehicles leave at 06:00AM and stop at 10:00PM. All buses have their own routine numbers, yet only labeled in Mongolian, thus finding the right bus could be difficult and confusing. Normally a single bus ticket costs 500 MNT for a regular bus ride and a "U-money" card is used. The card reader on the bus automatically deducts the fare from your card, and you can charge the card at a stand or in stores on-site. For students there is the possibility to use a discounted "U-money" card. The scope of service is 22 times free of charge per month. The city traffic office automatically launches student "U-money" card on the 1st day of each month. The validity period extends from September to January in winter semester and from February to June in summer semester. During the lecture-free period in summer months of July and August, there is no student "U-money" card. The order runs 2 times in the academic year, beginning of the respective semester. Each student voluntarily decides whether or not to buy discounted "U-money" card. The discounted "U-money" card can be ordered through the Student and Alumni Affairs Office at NUM.
National health insurance
All international students who have been granted permission to stay in Mongolia for more than 3 months are required to sign up in the National Health Insurance at the municipal office where he or she registered as a resident. The premium of NHI costs approximately 105.000MNT for one year. Whenever one receives a medical treatment for illness and injury, 10-15% of the cost will be automatically covered by NHI. One needs to present his or her NHI card/slip/ when visiting a hospital.
University medical services
International students are free to visit NUM Health Center for a check-up, first aid help and consultation.
NUM medical services schedules:
| | Consultation, check-up | Date | Place |
| --- | --- | --- | --- |
| 1 | X-ray examination | September 12. 20 | NUM Health Center |
| 2 | Service to help students obtain health insurance | September | NUM buildings |
| 3 | Vaccination campaign | October | NUM buildings |
| 4 | Blood Donation campaign | November | NUM buildings |